One of the pillars of Groups is keeping you and your community connected. You want everyone to be in the know when the things are happening, the conversations are swirling, and we've made that even better with new notifications and notification preferences!
New Notifications
Wouldn't it be nice if I could upload a resource to my group, and they just know without me emailing them about it? What about Bartholomew, who never checks his email anyway? You can now automatically alert Members and Leaders when a new Resource is added to your group, when you have an upcoming event, or when an event is canceled. No more separate email to get them involved.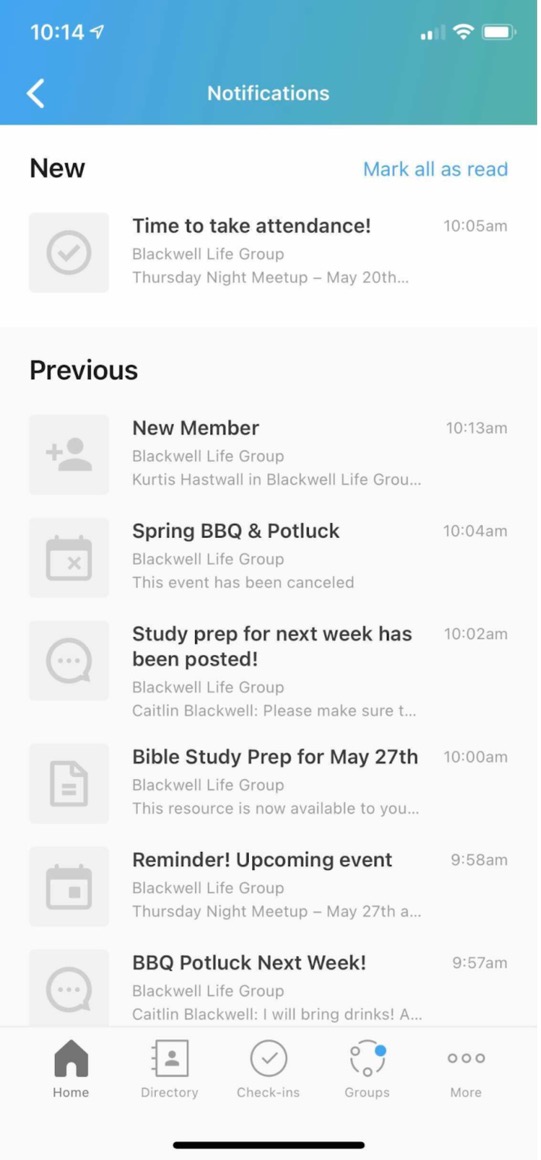 Leaders can also receive reminders to take attendance which takes them straight to the attendance form for their event. They receive a notification when a new member joins the group through an open signup. There's attendance reminders, new member reminders, event reminders, event canceled reminders, and new resource reminders!
If only there was a way we can control those reminders... 🤔
Preferences
With the latest app update, you can now control exactly which notifications come to your phone.
Can I only receive a Messaging notification when leaders reply to a topic in my Young Adults group? I want to know the important stuff, but I don't want to be notified every time someone finds their new favorite GIF of the hour...With all these new notifications, we wanted to give you and your people control of which ones light up your world, or "screen", to be less dramatic.
Enter our new "Notifications" option under the Preferences section of the profile page in Church Center.
From there, you and your group members can set preferences for each group you're a member or a leader of, choosing which notifications you want to receive for Messaging, Resources, and Events.
You can also customize your Messages notifications for the group, whether you want to hear from only Leaders or both leaders and members, as well as if you want all message replies or only a heads up when a new topic is posted.
Or enjoy some peace and quiet by disabling messages altogether!
With this latest update you now have a lot more options—more ways to stay connected, and more ways to customize your Groups experience to your needs.
We're always listening, so please notify us about what else you'd prefer. 😉
Stay connected,
Team Groups